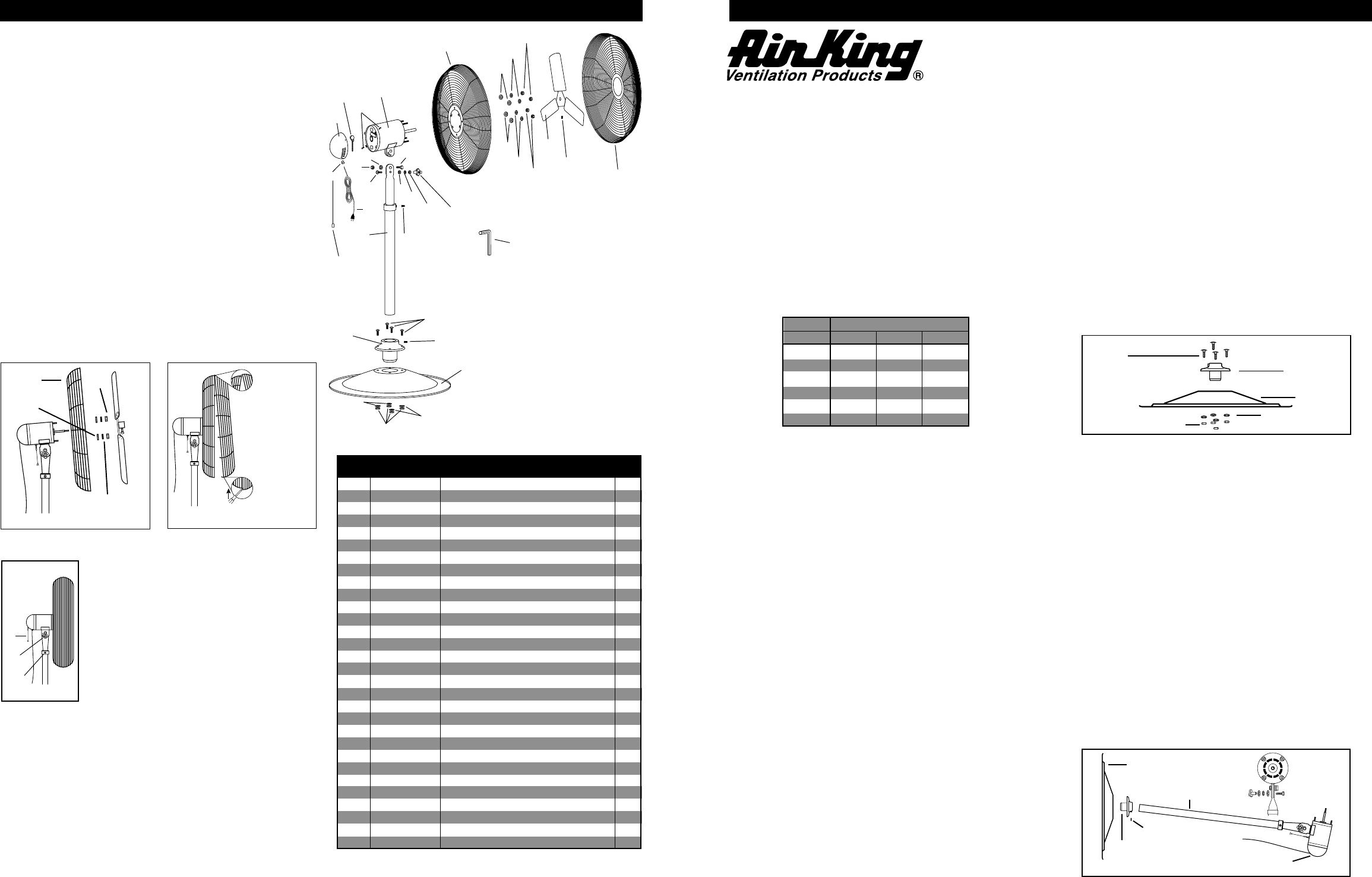 2085330
READ AND SAVE THESE INSTRUCTIONS
READ CAREFULLY BEFORE ATTEMPTING TO ASSEMBLE, INSTALL, OPERATE OR MAINTAIN THE PRODUCT DESCRIBED. PROTECT
YOURSELF AND OTHERS BY OBSERVING ALL SAFETY INFORMATION. FAILURE TO COMPLY WITH
INSTRUCTIONS COULD RESULT IN PERSONAL INJURY AND/OR PROPERTY DAMAGE!
RETAIN INSTRUCTIONS FOR FUTURE REFERENCE.
DESCRIPTION
The AirKing 24" (60.96 cm) Pedestal Fan features 3-speed pull cord
operation, a 3-paddle fan blade and variable height adjustments. This fan
has a permanently lubricated motor with a 10 ft. (3.05 m) 18/3 cord set and
is constructed of sturdy, powder coated steel.
SPECIFICATIONS
Motor
.........................................
120V, 50/60 Hz
Blade diameter
.........................24" (60.96 cm)
Speeds
......................................

3
Control
......................................
Pull Cord
Air flow distribution
...................90
°
Approvals
..................................
UL Listed. Close mesh fan guard
meets OSHA requirements.
24" PEDESTAL FAN
24" (60.96 cm) MODEL 4YN43/9124
OPERATING INSTRUCTIONS & PARTS MANUAL
NOTE: BECAUSE OF THE SIZE AND WEIGHT OF THIS FAN, ASSEMBLY
MAY REQUIRE TWO PEOPLE.
NOTE: ALL HARDWARE REFERRED TO IN THE INSTRUCTIONS MAY
BE FOUND IN THE SUPPLIED PARTS BAGS.
BASE ASSEMBLY
(Figure 1)
1.
Place Stand Base on floor.
2.
Fit Mounting Flange through large hole in center of Stand Base. Align
four Bolt Holes.
3.
Insert four 3/8-16 x 1" Carriage Bolts through Flange and Stand Base.
4.
Tilt up side of Base and secure one Bolt at a time by first putting on a
3/8" Split Lockwasher and then a 3/8-16 Hex Nut. DO NOT FULLY
TIGHTEN AT THIS TIME. Repeat above procedure with remaining
Bolts. NOW GO BACK AND FULLY TIGHTEN EACH HEX NUT so
that Flange is securely assembled to Stand Base.
GENERAL SAFETY INFORMATION
1.
Make

certain

that

the

power

source

conforms

to

the

electrical
requirements of the fan.
2.
The power cord is equipped with a three-prong grounded plug that must
be inserted into a matching receptacle. Under no circumstances must
the
grounding
prong
be
cut
off
the
plug.
Where
a
two-prong
wall
receptacle is encountered, it must be replaced with a properly grounded
three-prong receptacle installed in accordance with the National Electri-
cal Code (NEC) and all applicable local codes and ordinances. This work
must be done only by a qualified electrician, using copper wire only.
WARNING: USE OF A THREE-PRONG TO TWO-PRONG ADAPTER IS
NOT RECOMMENDED. IMPROPER CONNECTION MAY CREATE THE
RISK OF ELECTROCUTION. USE OF SUCH ADAPTERS IS NOT PER-
MITTED IN CANADA.
3.
Where possible, avoid the use of extension cords. If they must be used,
minimize the risk of overheating by ensuring that they are UL listed and
of the proper gage and length. Never use a single extension cord to
operate more than one fan.
4.
Do not insert fingers or foreign objects into the fan. Do not block or
tamper with the fan in any manner while it is in operation. Do not touch
the fan while in operation or just after it has been turned off, as some
parts may be hot enough to cause injury.
5.
Unplug power cord before installing or servicing the fan.
WARNING: DO NOT DEPEND UPON THE ON-OFF SWITCH AS THE
SOLE MEANS OF DISCONNECTING POWER WHEN INSTALLING OR
SERVICING THE FAN. ALWAYS UNPLUG THE POWER CORD.
6.
This fan is intended for general use ONLY. It must NOT be used in
potentially dangerous locations such as flammable, explosive, chemi-
cal-laden or wet atmospheres.
WARNING: TO REDUCE THE RISK OF FIRE OR ELECTRIC SHOCK, DO
NOT USE THIS FAN WITH ANY SOLID STATE SPEED CONTROL DEVICE.
CAUTION: BECAUSE OF SIZE AND WEIGHT OF THIS FAN, MAKE
SURE ALL PARTS ARE COMPLETELY ASSEMBLED ACCORDING TO
INSTRUCTIONS. FAILURE TO DO SO COULD RESULT IN FAN COMING
APART DURING OPERATION AND/OR PERSONAL INJURY.
TOOLS REQUIRED FOR ASSEMBLY
• 2 Adjustable Wrenches (min 3/4" open)
• Flathead Screwdriver
• 3/16 Allen Wrench (supplied in parts bag)
M
3
4
2085330
Rev. C 5/01
Figure 1
MOTOR/COLUMN ASSEMBLY
(Figure 2)
5.
Remove Motor from foam, place on the floor on its side with the Shaft
facing right and the Motor Mounting Bracket facing towards you.
6.
Slide flat section on Upper Tube of Column Assembly inside Motor
Mounting Bracket Slot. Align the 1/2" diameter Hole in the flat section
on the Upper Tube of Column Assembly with the 1/2" diameter Hole in
the Motor Mounting Bracket.
(Figure 2)
7.
Insert the 1/2" diameter x 1" long Hex Bolt (3/4" head) through the
Motor Bracket, and the Upper Tube Assembly. Place 1/2" diameter
Split Lockwasher then 1/2" diameter Nut (3/4" hex) and, as shown in
(Figure 2)
, tighten fully with 2 Adjustable Wrenches.
NOTE: Secure these parts before Column/Base Assembly.
8.
Insert one 1/4-20 x 1 3/8" Carriage Bolt through the Arc-Shaped Slot in
Motor Bracket and Hole in Upper Pipe of Column, as shown in
(Figure 2)

.
To Fasten:
Place one 1/4" Flatwasher, one 1/4" Internal Tooth
Lockwasher, a second 1/4" Flat Washer and then
tighten the Adjust-
ment Knob over the remaining threads.
COLUMN/BASE ASSEMBLY
(Figure 2)
9.
Rest Column and Head Assembly on floor next to the Base Assembly.
Tilt Base Assembly up on end. Pick up Lower Pipe of Column and
insert bottom of Pipe into the Mounting Flange.
10.
Tilt entire Assembly (base and head) upright. Insert and securely tighten
the 3/8"-16 x 3/4" Allen Set Screw in Mounting Flange with the Allen
Wrench (supplied in parts bag). Make sure Screw is fully tightened
and there is NO looseness between Column and Mounting Flange.
Figure 2
Front View
Figura 3
Detalle B
Enganche de
Fondo
Figura 4
Detalle A
Enganche de
Aribba
MONTAJE DE REJILLA Y HOJA
(Figura 3 y 4)
1.
Afloje la Pestana, incline hacia atras hasta la mitad la Cabeza del Ventilador.
Reapriete la Pestana.
2.
Ponga la parte Posterior de la Rejilla en el Motor alineando los cuatro Agujeros
en la Plancha de la Rejilla con los cuatro Tornillos del Motor.
3.
Mientras sujeta con una mano la parte Posterior de la Rejilla en su posicion,
asegure un Tornillo cada vez, poniendo primeramente una Arandela Plana de 3/
4" de
diametro, luego una Arandela Aseguradora del Numero 10 y
luego un
Tornillo sobre una Tuerca tipo Hex 10-32. NO APRIETE AL MAXIMO ESTA VEZ.
Repita el mismo procedimiento con los Tornillos restantes. AHORA VUELVA
ATRAS Y APRIETE AL MAXIMO LAS TUERCAS EN CADA TORNILLO.
(Figura 3)
4.
Afloje la Pestana y vuelva la Cabeza del aparato a su posicion vertical, segun se
muestra en la Figura n
°
4.
5.
Deslice la Hoja del Ventilador por el Eje del Motor, elcentro de la Hoja Mirando hacia
afuera del Motor, hasta que haga tope contra el Eje.
Ponga en linea la Cabeza del
Tornillo con la parte Plana del Eje del Motor.
APRIETELO FUERTEMENTE CON
UNA LLAVE INGLESA AJUSTABLE.
Un fallo al apretar fuertemente el Tornillo
Podria causar una averia en el Ventilador y/o danos personales.
6.
Sujete la parte Fontal de la Rejilla para que el nombre, en el centro, este derecho
boca arriba y recto.
Empezando por la parte alta:

Fije y cierre la parte Frontal
a la parte Trasera de la Rejilla deslizando los Alambres Ganchudos de la parte
Frontal de la Rejilla sobre el Extremo del Aro en la parte Posterior de la Rejilla,
segun se muestra en el Figura 4-Detalle A.
El Extremo mas Ganchudo requerira
el uso de un Desarmador de Cabeza Plana para completar el montaje.
Permanezca detras del Ventilador.
Deslice la parte Plana de la Hoja entre las
partes Frontal y Trasera de la Rejilla, proximo a uno de los Ganchos no cerrados,
segun se muestra en el Figura 4-Detalle B. Jale el puno del Desarmador hacia
arriba hacia la parte Posterior de la Rejilla. Deslice el Gancho de la parte Frontal
sobre el Aro Externo de la parte Trasera de la Rejilla con un empuje. Repita el
mismo procedimiento con los Ganchos restantes. Advertencia: tenga cuidado de
no doblar ningun alambre en la Rejilla ni pillarse las manos durante el montaje.
7.
Enganche la Cuerda con la Cadenilla para Jalar. El Montaje del Ventilador ya esta
completo. Remitase a la pagina 1 para un correcto Modo de Empleo y Mantenimiento.
MODO DE EMPLE
1)
Para ponerlo en marcha:
Conecte el cable a un dispositivo
de toma de tierra 120v, 60Hz. Seleccione la velocidad de
funcionamiento deseada con el cordon tirador en la parte
posterior del motor:
Primer tiron:
High (Rapido)
Tercer tiron:
Low (Lento)
Segundo tiron:
Med (Medio)
Cuarto tiron:
OFF (Apagado)
Nota: Si Usted no lo sujeta firmemente por la cabeza,
mientras ajusta la altura o el angulo (pasos 2 y 3) podria
causarle danos personales.
2)
Para ajustar el ángulo de la cabeza:
Mientras se coge la
cabeza
firmemente,
afloje
la
pestana
debajo
del
motor
(gire
en
la
direccion
de
las
agujas
del
reloj).
Incline
la
cabeza hasta la posicion deseada. FIRMEMENTE reapriete
la pestana bajo el motor.
3)
Para ajustar la altura de la cabeza:
Mientras sujeta firmemente la parte mas alta
de la columna, afloje el tornillo en el cuello de la columna (gire en direccion de las
agujas del reloj). Suba o baje la cabeza del aparato hasta la posicion deseada.
Reapriete FIRMEMENTE el tornillo.
MANTENIMIENT
Limpieza:
Desconectelo de la corriente electrica.
NO SUMERJA EL VENTILADOR EN AGUA.
Utilice un trapo suave mojado con una
solucion de jabon ligero para limpiar las piezas del ventilador.
Evite
el
uso
de
gasolina,
bencina,
disolvente,
limpiadores
corrosivos,
etc...
que
danarian el material.
Seque todas las piezas completamente con un trapo suave antes de montarlo de
nuevo y de volver a conectarlo.
ALMACENAMIENTO:
Cuando no lo utilice, mantenga el aparato en un lugar limpio
y seco.
ENGRASE:
Los cojinetes de precision son precintados para toda la vida en la fabrica
y no requieren ningun engrase adicional.
MODELO 4YN43/9124
1
2
3
4
5
6
7
8
10
9
11
12
13
14
15
16
17
18
19
21
20
20
22
23
24
25
23
24
25
26
27
28
11
30
29
LISTA DE REPUESTOS
1
2030018MC*
Cubierta del Motor Trasera
1
2
2030018SR*
Buje para el Alambre
1
3
2030018CS*
Cordón Eléctrico
1
6
2030018
Conjunto del Motor
1
7
5090003
Tuerca Hex 1/2"
1
8
5090002
Arandela de Seguridad Rayadas 1/2"
1
9
**
Tornillo 1/4-20 x 1-3/8"
1
10
5090001
Tornillo Hex 1/2 x 1"
1
11
**
Arandela Plana 1/4"
2
12
**
Ar
andela de Seguridad 1/4" Diente Interno

1
13
5010105N
Perilla del Tubo
1
14
5090004
Tornillo 3/8" - 16 x 1/2"
1
15
5062002BK
Conjunto del Tubo
1
16
5090007
Tornillo 3/8 - 16 x 1"
4
17
5090044
Tornillo 1/4-28 x 3/8"
1
20
5090009
Arandela de Seguridad Rayadas 3/8"
4
21
5090010
Tuerca Hex 3/8 - 16
4
22
5096007BK
Rejilla Trasera
1
23
**
Arandela Plana 3/4"
4
24
**
Arandela de Seguridad n
°
10
4
25
**
Tuerca Hex 10 - 32
4
28
5096006BK
Rejilla Delantera
1
29
5090011
Llave Tipo Hex
1
30
**
Cordón Tirador con Colgante
1
* Incluyendo el Numero de Partes 2080018
** Empaques (Numero de Partes 5098001)
1
2
3
Carriage
Bolt
Mounting
Flange
Base
Split Lockwasher
Hex Nut
Base
Pipe Assembly
Set Screw
Mounting Flange
Motor Assembly
Arandela
Plana
Arandela
de Seguridad
Tuerca
Hex
Rejilla
Trasera
Summary of content (2 pages)