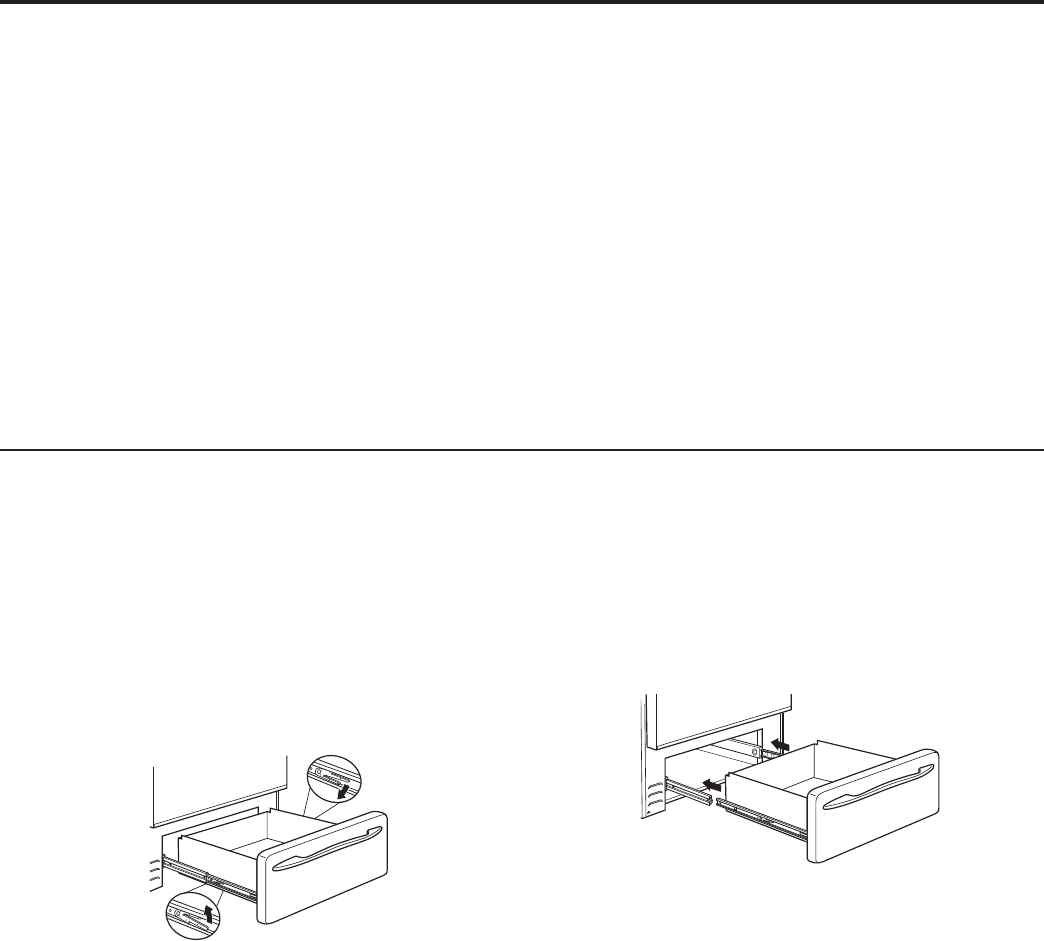 Removable Storage Drawer
Most cleaning can be done with the drawer in place.
However, the drawer may be removed if further cleaning
LVQHHGHG8VHVRDSDQGZDUPZDWHUWRWKRURXJKO\FOHDQ
To remove the drawer:
1.
3XOOGUDZHUVWUDLJKWRXWXQWLOLWVWRSV
2.
3UHVVWKHOHIWUDLOUHOHDVHXSDQGSUHVVWKHULJKWUDLO
release down, while pulling the drawer forward and
free.
To replace the drawer:
1.
3ODFHWKHOHIWGUDZHUUDLODURXQGWKHLQQHUOHIWUDLO
guide and slide it in slightly to hook it.
2.
3ODFHWKHULJKWGUDZHUUDLODURXQGWKHLQQHUULJKWUDLO
guide and slide it in slightly to hook it.
3.
Slide the drawer all the way in.
Cleaning the Oven Door
Cleaning the Door Interior
Do not allow excess water to run into any holes or slots
Wipe dish soap over any baked-on spatters on the glass.
8VHDVLQJOHVLGHGVDIHW\UD]RUEODGHWRFOHDQLWRII7KHQ
wipe over the glass with a soapy cloth to remove any
residue and dry off.
The area outside the gasket can be cleaned with a soap-
filled plastic scouring pad. Do not rub or clean the door
gasket - it has an extremely low resistance to abrasion.
If you notice the gasket becoming worn, frayed or
damaged in any way or if it has become displaced on the
door, you should have it replaced.
Cleaning the Door Exterior
If a stain on the door vent trim is persistent, use a mild
abrasive cleaner and a sponge-scrubber for best results.
Do not use this method on any other surface.
Stainless Steel Surfaces (on some models)
Do not use a steel wool pad; it will scratch the surface.
To clean the stainless steel surface, use warm sudsy
water or a stainless steel cleaner or polish. Always wipe
the surface in the direction of the grain. Follow the cleaner
instructions for cleaning the stainless steel surface.
To inquire about purchasing cleaning products
including stainless steel appliance cleaner or polish,
see the Accessories and Consumer Support sections
at the end of this manual.
Door and Drawer
CARE AND CLEANING:
: Door and Drawer