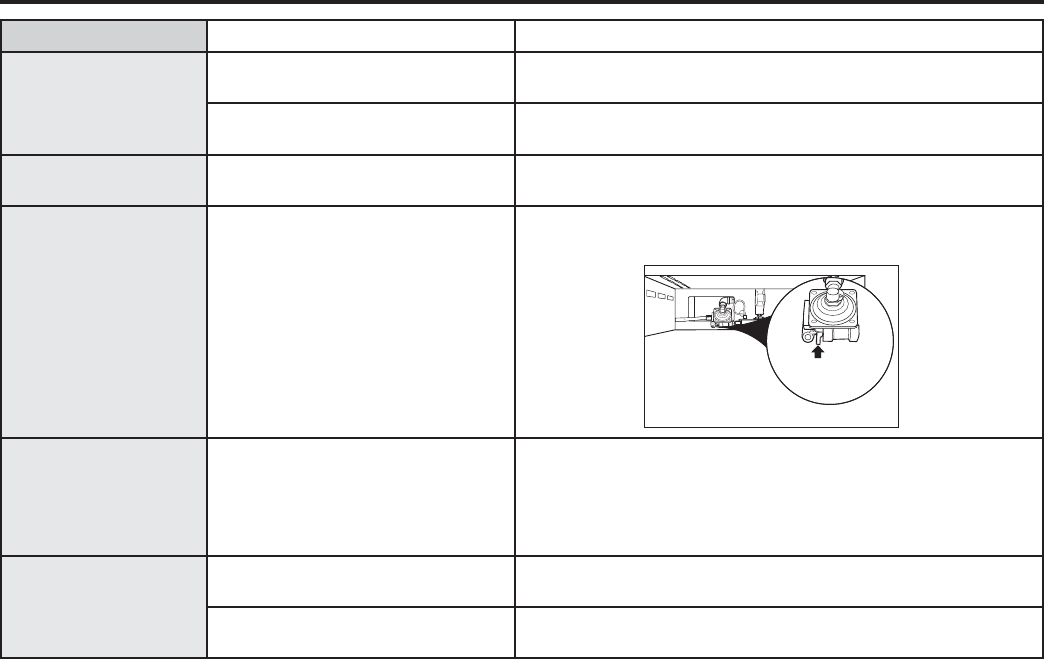 TROUBLESHOOTING TIPS
Troubleshooting Tips ...
Before you call for service
Problem
Possible Cause
What To Do
Top burners do not
burn evenly
Improper burner assembly.
Make sure the burner caps are seated correctly. See the Care and
Cleaning of the range section.
Burner slots on the side of the
burner may be clogged.
Remove the burners for cleaning. See the Care and Cleaning of
the range section.
Burner flames are
very large or yellow
Improper air to gas ratio.
,IUDQJHLVFRQQHFWHGWR3URSDQHJDVFRQWDFWWKHWHFKQLFLDQ
who installed your range or made the conversion.
Surface burners light
but bake and broil
burners do not.
Gas to the oven burners may
have been shut off.
The oven gas shut-off is located on the gas regulator near the
gas line attachment to your range. Locate it and flip the lever.
My oven door glass
appears to be
"tinted" or have a
"rainbow" color.
The inner oven glass is coated
with a heat barrier to reflect
the heat back into the oven to
prevent heat loss and keep the
outer door cool while baking.
7KLVLVQRUPDO8QGHUFHUWDLQOLJKWRUDQJOHV\RXPD\VHHWKLV
tint or rainbow color.
Drawer does not slide
smoothly or drags
The drawer is out of alignment.
Fully extend the drawer and push it all the way in. See the Care
and Cleaning of the range section.
Drawer is over-loaded or load is
unbalanced.
Reduce weight or redistribute drawer contents.
Lever is
shown closed.
38//7223(1
Sealed burner models