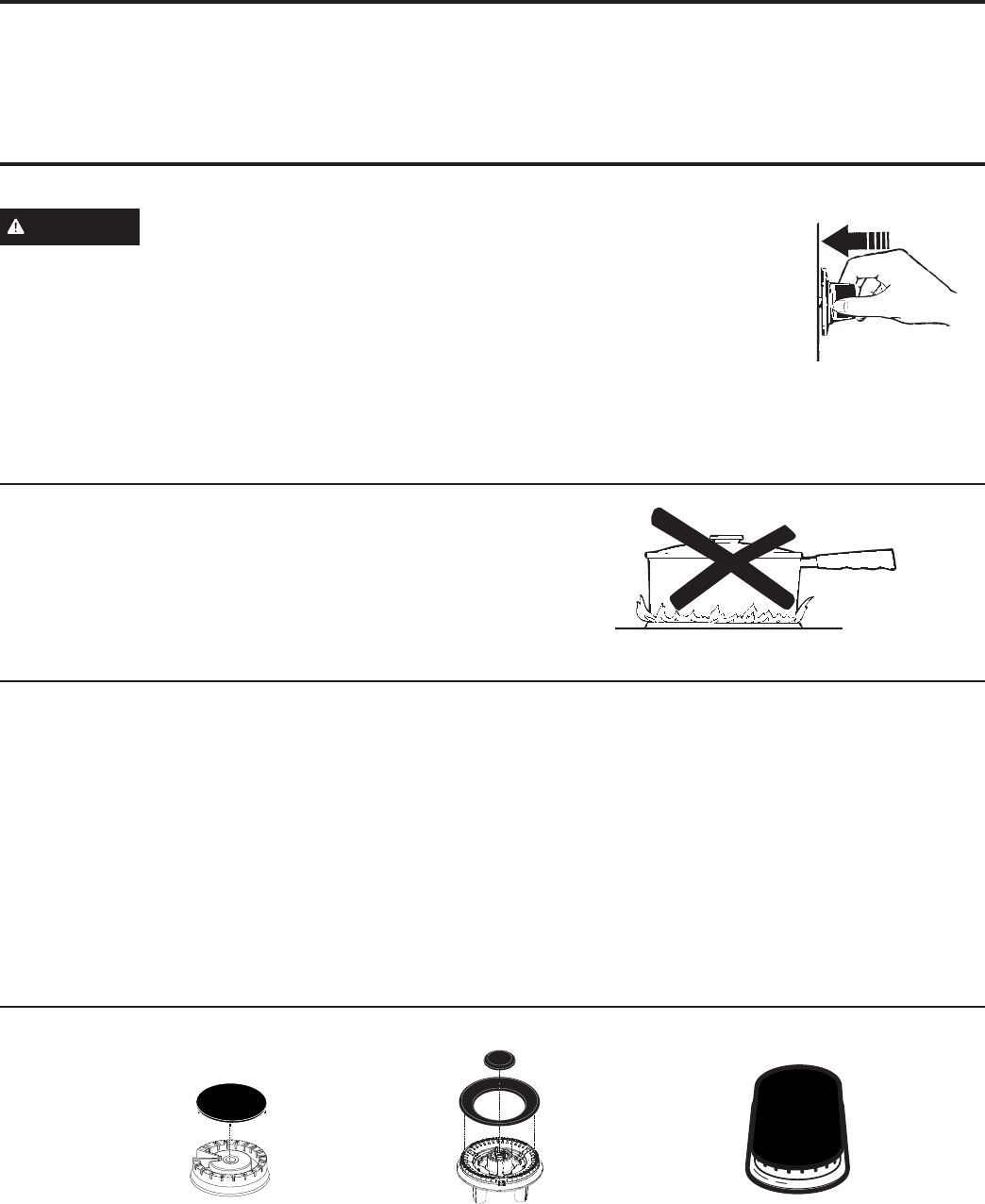 In Case of a Power Failure
USING THE RANGE:
,Q

&DVH

RI

D

3RZHU

)DLOXUH



6XUIDFH

%XUQHUV
Types of Surface Burners
Round Burner
8VHWKLVEXUQHUIRUJHQHUDO
cooking purposes. Size cookware
appropriately to the flames.
Multi-Ring Burner
(on some models)
8VHWKLVEXUQHUIRUODUJH
cookware or for simmering
applications.
Surface Burners
In the event of a power failure, the oven is inoperable
and no attempt should be made to operate it. However,
WKHVXUIDFHEXUQHUVPD\EHOLWZLWKDPDWFK8VLQJ
extreme caution, hold a lit match near the ports beneath
the surface burner cap, then slowly turn the knob to the
LITE position. Once lit, surface burners will continue to
operate normally.
Lighting a Surface Burner
WARNING
Burners should be operated only
when covered by cookware. Burner flames not
covered by cookware present a risk of fire or
clothing ignition. Never let flames extend beyond the
sides of the cookware. Failure to comply may result
in serious injury.
Make sure all burners are in their correct locations and
fully assembled before attempting to operate any burner.
6HOHFWDEXUQHUDQGILQGLWVFRQWURONQRE3XVKWKHNQRE
in and turn it to the LITE position.
<RXZLOOKHDUDFOLFNLQJQRLVH²
the sound of the electric spark
igniting the burner. When one
burner is turned to LITE, all
burners will spark. Sparking will
continue as long as the knob
remains at LITE. Once gas is
ignited, turn the knob to adjust
the flame size.
Using the Surface Burners
NOTES:
Ŷ
'RQRWRSHUDWHWKHEXUQHUIRUDQH[WHQGHGSHULRGRI
time without cookware on the grate. The finish on
the grate may discolor or chip without cookware to
absorb the heat.
Ŷ
'RQRWDWWHPSWWRGLVDVVHPEOHDQ\EXUQHUZKLOHDQRWKHU
burner is on. Damage to the product may occur.
Ŷ
%HVXUHWKHEXUQHUVDQGJUDWHVDUHFRROEHIRUH\RX
place your hand, a pot holder or cleaning materials
on them.
Your rangetop has sealed gas burners that offer
convenience, cleanability and flexibility for a wide range
of cooking applications.
The smallest burner is the simmer burner. A simmer
burner turned down to LO provides precise cooking
performance for foods such as delicate sauces that
require low heat for a long cooking time.
The extra-large burner is designed to quickly bring
large amounts of liquid to a boil. Some models have a
32:(5%2,/VHWWLQJHVSHFLDOO\GHVLJQHGIRUXVHZLWK
FRRNZDUHZLWKDGLDPHWHURILQFKHVRUODUJHU
Selecting a Flame Size
Watch the flame, not the knob, as you adjust heat. When
rapid heating is desired, the flame size should match the
size of the cookware you are using. Flames larger than
the bottom of the cookware will not heat faster and may
be hazardous.
3XVKWKHFRQWURONQRELQDQG
turn it to the LITE position.
These flames are too large for the pot
Oval Burner
8VHWKLVEXUQHUWRFRRNRQWKHJULGGOH