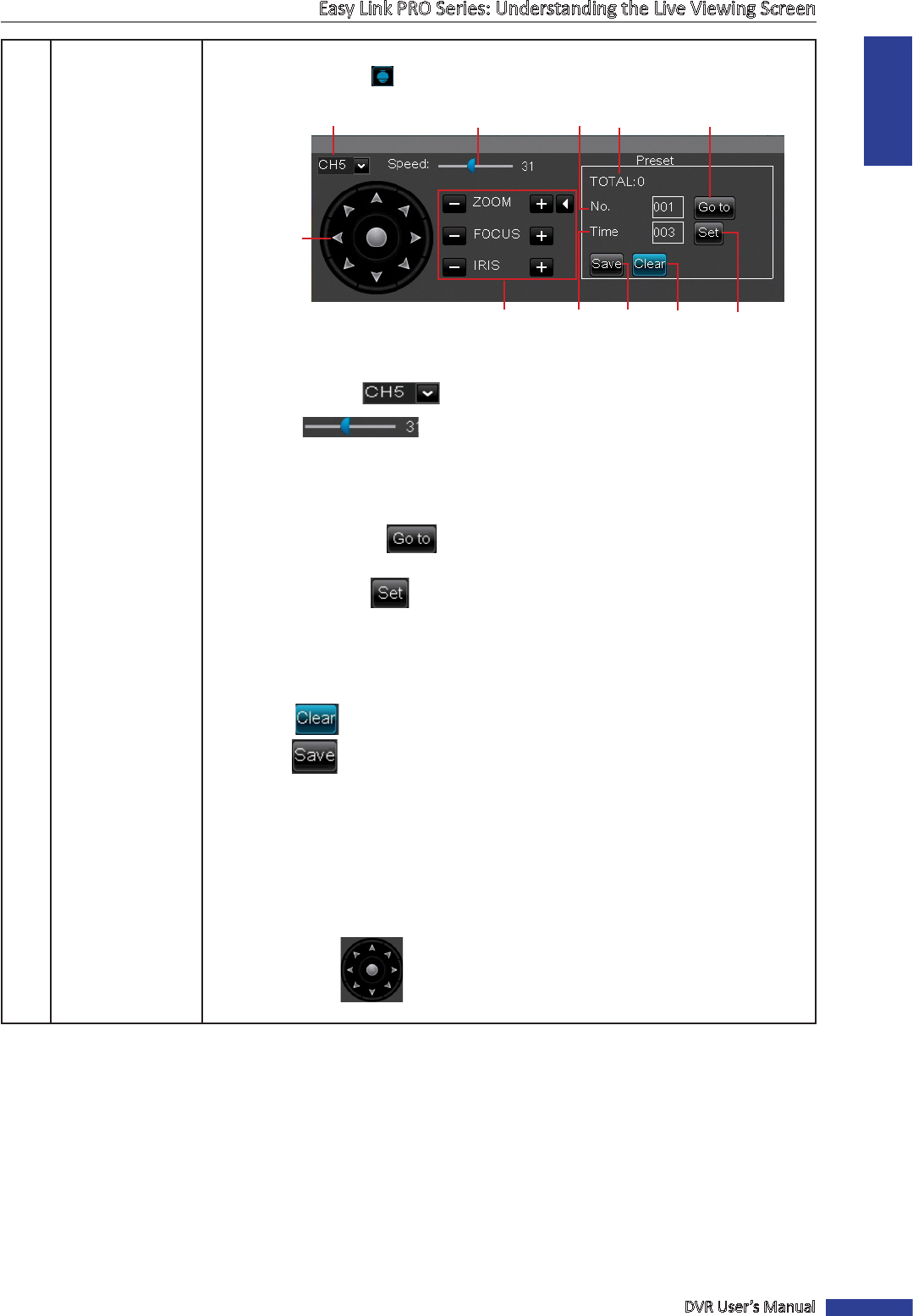 ENGLISH
Easy Link PRO Series: Understanding the Live Viewing Screen
DVR User's Manual
31
6
PTZ
Use this menu item to congure the PTZ (Pan-Tilt-Zoom) sengs for a PTZ speed dome
camera. Aer you click
, the PTZ control panel opens.
Channel Select
Speed
Pointer Pan
Save
Clear
No.
Total
Go to Preset Point
Set Preset
Point
): Click to select the channel of the PTZ camera.
•
Speed
(

): Scroll the speed scroll bar, to select how fast you want
the camera to lt, pan and zoom. The higher the number, the faster movement.
•
No.
: Click to set the current preset point that is being edited.
•
Total

: Displays the number of the total preset points.
): Click to move the camera to the selected preset
point.
): Click the arrows (see Pointer Pan) to move the camera
to the desired direcon, then click
Set
to set a specic preset point on a PTZ
camera.
NOTE:
You can set up to 255 preset points for the DVR. However, the actual
preset quanty varies depending on the PTZ camera performance.
): Click to delete the selected preset point.
): Click to save changes.
•
Time

: Set the me how long the camera will pause at each preset point when
using the Cruise mode.
•
Zoom / Focus / Iris
: If you are using a variable zoom PTZ camera, zooming in
increases the size of the object on the display but reduces the eld of view. Use
Focus funcon to make the image clear on the display. Use Iris funcon to control
how much light gets into the camera. If the view on the screen looks too bright,
lower the iris value, if too dark then increase the value.
): Click the direcon arrow to select the direcon of the
PTZ camera. Click the middle icon to switch to auto pan
mode.