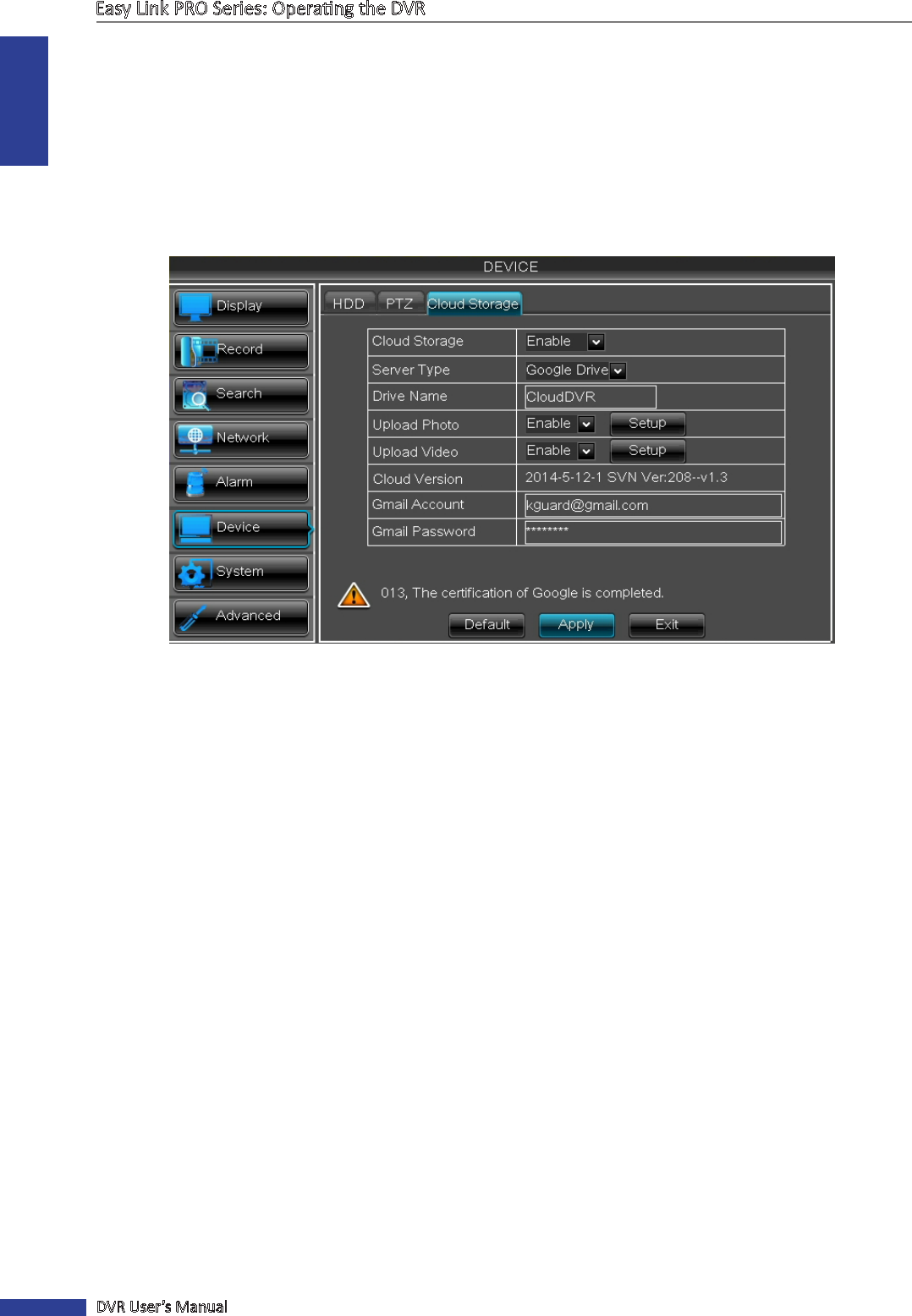 ENGLISH
Easy Link PRO Series: Operang the DVR
80
DVR User's Manual
Device: Cloud Storage
This feature allows users to see what is happening on your camera site anyme, anywhere through the Internet.
Uploading the snapshots can be based on a me interval and when a moon is detected. Uploading the videos takes
place only when a moon is detected during the set schedule. The DVR supports Google Drive and Dropbox cloud
services.
See more about conguring the cloud storage in
"Using Cloud Storage" on page 43.
Google Drive
•
Cloud Storage:
Allow cloud sengs.
•
Server Type:
Select
Google Drive
from the list.
•
Drive Name:
Enter the cloud storage name for your DVR. When linking the KGuard Cloud Uploader to your
Google Drive, the
Drive Name
will be used as the folder name where KGuard uploads the snapshots and/or
videos.
•
Cloud Version
: Current cloud storage service version.
•
Gmail Account
: Enter your Gmail account in the format <

username>@gmail.com

. For example,
kguard@gmail.com.
•
Gmail Password
: Enter the password of your Gmail account.
Click
Apply
to save the sengs. Then connue conguring the photo/video upload sengs.
•
Upload Photo:
Enable and click
Apply
if you want to upload photos from the cameras. Click Setup

to congure
the photo upload opons.
Uploading the snapshots can be based on a me interval or when a moon is detected. Uploading the videos takes