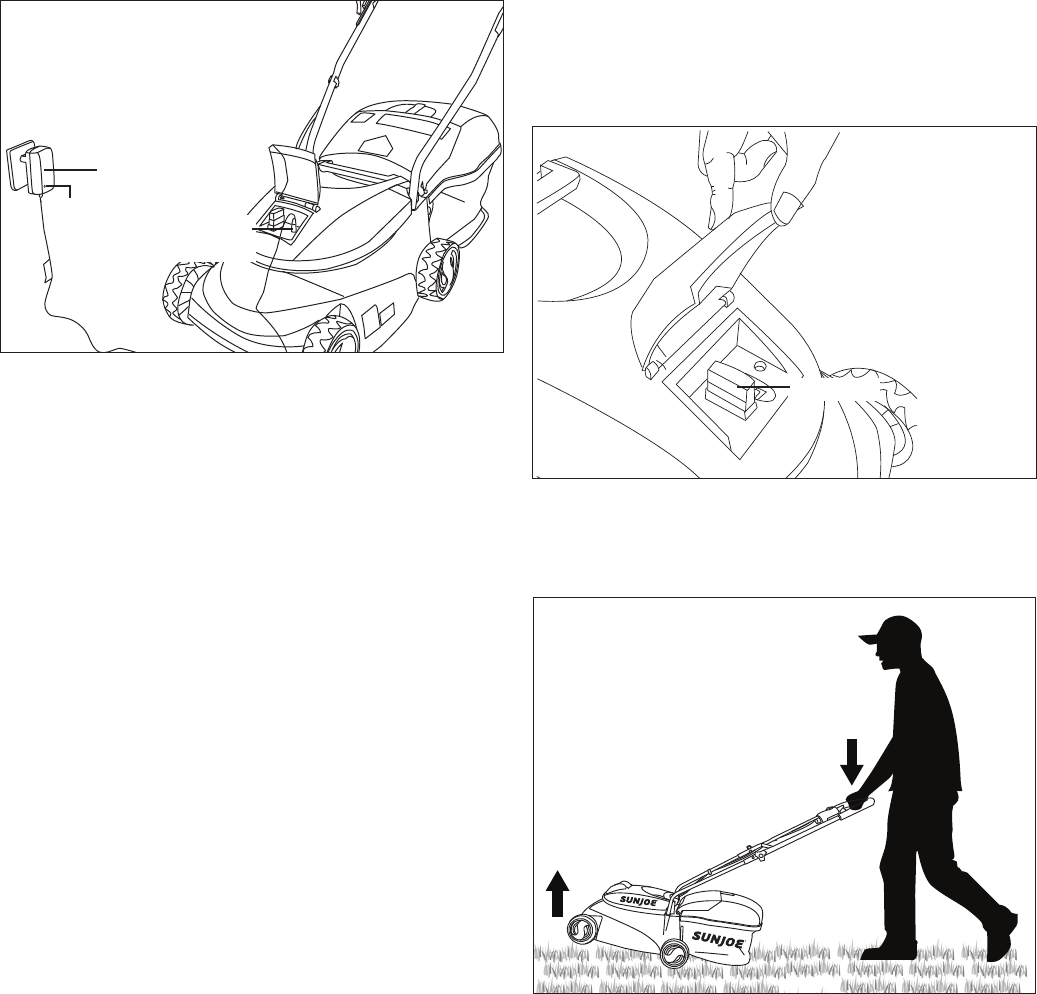 9
•
Never store the lawn mower with the battery in a
discharged condition. Recharge the unit immediately after
it is discharged.
•
All batteries gradually lose their charge. The higher the
temperature is, the faster they lose their charge. If you
store your lawn mower for long periods of time without
using it, recharge the battery every 6 months. This will
extend battery life.
NOTE:
The lawn mower has been shipped in a low charge
condition and should be fully charged before use.
1.
Plug the charger into an appropriate AC power outlet.
Connect the charger plug into the charging socket of the
lawn mower to start charging (Fig. 8).
2.
The

charge indicator LED on the charger will illuminate red
to indicate that the charging is in progress (Fig. 8).
3.
The battery will take approximately 4 hours to charge.
The charge indicator LED will become green when the
battery is fully charged, unplug the charger immediately
when the green light is on.
m
CAUTION!

This charger does not automatically turn o
when the battery is fully charged. Please
take care not to leave
the lawn mower plugged into the charger. Switch o or unplug
the charger at the mains when charging is complete.
NOTE:
The
charge indicator LED light will illuminate red when
the charger is plugged in and is charging the lawn mower.
The
light will turn green when the lawn mower is fully charged.
The charging process starts as soon as the charger is plugged
into both the proper electrical outlet and the tool.
• During the charging procedure, the housing of the tool will
feel slightly warm to the touch. This is normal.
• When no further use is planned for an extended period
of time, disconnect the battery charger from the outlet
and the unit.
• Do not use the tool during the charging procedure.
Operation
This lawn mower is intended for private residential use to cut
grass in small lawns and gardens. This lawn mower is not
intended to cut grass in public parks, playing elds, farms or
forests. Do not use this lawn mower for any application other
than that for which it is intended.
Starting + Stopping
m
WARNING!

Before switching on the mower, make sure
that it is not in contact with any foreign objects. Keep your
hands and feet a safe distance away from the rotating mower
blade and the ejector opening. Failure to comply with these
warnings can result in severe personal injury.
IMPORTANT:
Do not start the mower in tall grass.
1.
Before starting the unit, insert the safety key in the slot
(Fig. 9).
2.
Before starting the lawn mower, hold the handle assembly
with both hands and tilt the handle downward to slightly
raise the front of the lawn
mower. This will reduce the risk
of lawn damage during start-up (Fig. 10).
Fig. 8
Charger
adapter
Charger
plug
Charge
indicator
LED light
Fig. 9
Safety key
R
R
Fig. 10