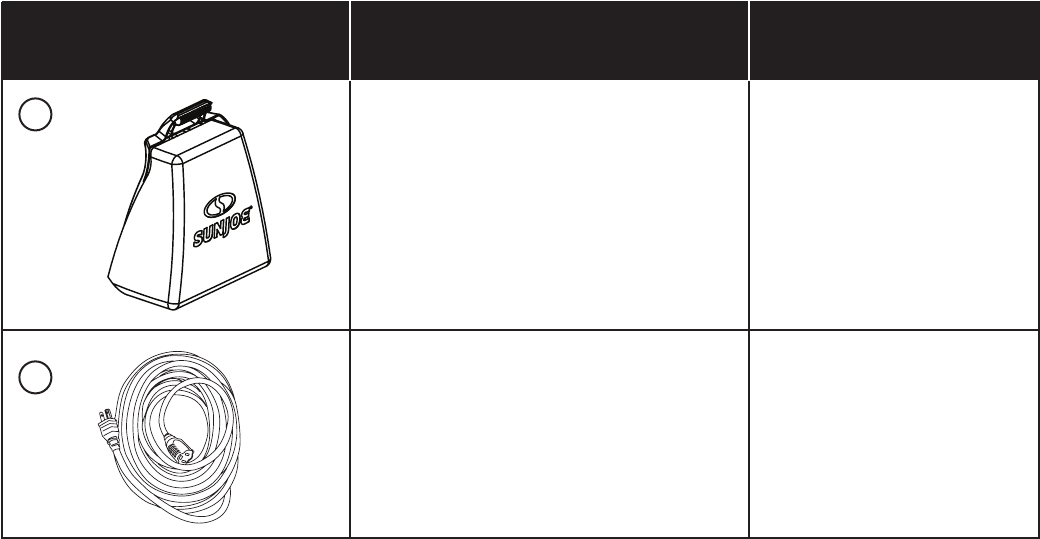 12
Optional Accessories
m
WARNING!
ALWAYS use only authorized Snow Joe
®
+ Sun Joe
®
replacement parts and accessories. NEVER use
replacement parts or accessories that are not intended for use with this electric blower vac. Contact Snow Joe
®
+ Sun Joe
®
if
you are unsure whether it is safe to use a particular replacement part or accessory with your electric blower vac. The use of any
other attachment or accessory can be dangerous and could cause injury or mechanical damage.
8 gallons (35 l) collection bag
Snow Joe
®
+ Sun Joe
®
Power Joe SJTW-A
14-gauge 50-foot extension cord with
lighted end
SBJ802E-BAG
PJEXT50-B
1
2
NOTE:
Accessories are subject to change without any obligation on the part of Snow Joe
®
+ Sun Joe
®
to provide notice of such
changes. Accessories can be ordered online at snowjoe.com or via phone by contacting the Snow Joe
®
+ Sun Joe
®
customer
service center at 1-866-SNOWJOE (1-866-766-9563).