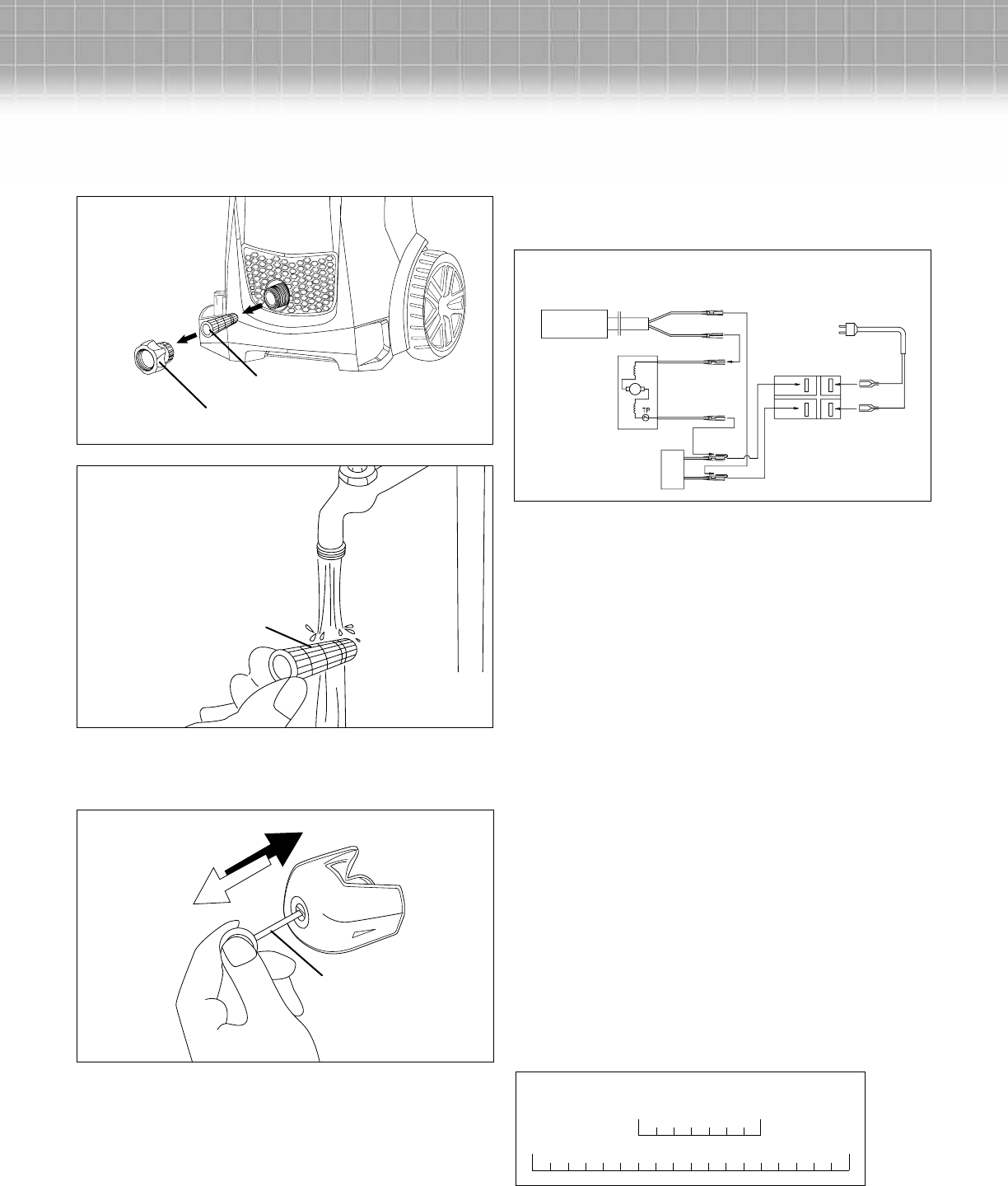 10
water to prevent any foreign matter from clogging the
pump (Fig. 18).
• Clean the nozzle with the needle clean out tool provided
(Fig. 19). Remove the spray wand from the gun; remove any
dirt from the nozzle hole and rinse.
• Remove additional debris by back ushing water through
the nozzle. To do this, place the end of your garden hose
(with water running) to the tip of nozzle, pushing water and
debris out the back opening of the spray wand.
Circuit Diagram
A circuit diagram for the pressure washer is provided below for
your reference (Fig. 20).
Disposal
Recycling the washer
•
Do not dispose of electrical appliances as unsorted
municipal waste. Use separate collection facilities.
•
Contact your local government agency for information
regarding the collection systems available.
•
If electrical appliances are disposed of in landlls
or dumps, hazardous substances can leak into the
groundwater and get into the food chain, damaging your
health and well-being.
•
When replacing old appliances with new ones, the retailer
is legally obligated to take back your old appliance for
disposal at least free of charge.
Service and Support
If your Electric Pressure Washer requires service or
maintenance, please call 1-866-766-9563 for assistance.
Model and Serial Numbers
When contacting the company or reordering parts, you will
need to provide the model and serial numbers of your product.
These are found on the decal afxed to the housing or guard
of your Electric Pressure Washer. Copy these numbers into the
space provided below.
Fig. 17
(FRONT)
Water inlet lter
Garden hose adaptor
Fig. 18
Inlet lter
15º
Fig. 19
Needle clean out tool
Micro-switch
Motor
Capacitor
On/off switch
Power cord
Fig. 20
Record the following numbers from the housing or handle of your
new product:
Model #:
Serial #: